Miranda Foxy Fox - " Megi"
import CZ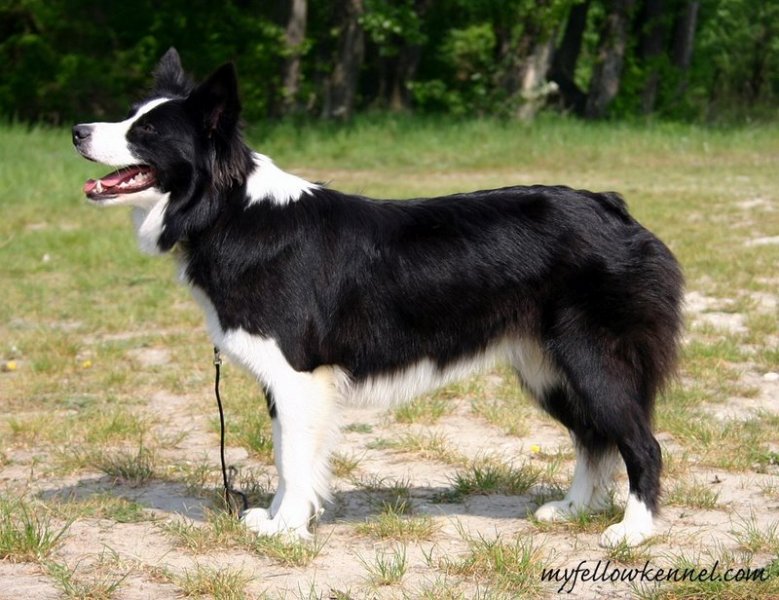 plemeno / breed / : bordercollia / bordercollie/
pohlavie / sex / : sučka / bitch /
dátum narodenia / date of born / : 27. 3. 2007
farba / color / : čiernobiela / black and white /
chovateľ / breeder / : Helena Pulpánová - ch. s. Foxy Fox
matka / dam / : Gay Bohemia Alké
otec / sir / : Cinlock Catchword
rodokmen.PDF (235 KB)
/ pedigree /
zdravie /health/:
CEA/DNA normal /po rodičoch - by parentage /
TNS normal /test/
Cl normal /podľa rodokmeňa - by pedigree /
RTG DBK - HD A
RTG DLK - neg., OCD - neg /RTG iba pre vlastnú potrebu, nie pre oficiálne posúdenie! - RTG just for own using, not with certificate /
PRA, CEA, RD, KAT., PPM, PHTVL/PHPV, prim. glaukom - neg. / 2009 /
plnochrupá, nožnicový skus / full dentition, scissors bite /
vystavy.doc [40 KB]
: veľmi nádejná 2, výborná 2, res. CAC, veľmi dobrá 2
shows: very promising 2, excellent 2, res. CAC, very good 2
skusky.doc [26 KB]
: SVOP, SOP, LA 1
exams: herding instinct test, " obedience " exam, large agility 1
preteky.doc [42 KB]
competition
Megi je vždy "vysmiata" borderka. Všetko robí s elánom a naplno. Víta nás výskokmi do tváre a to aj vtedy, ak sa vrátime domov len po minúte
. Od šteniatka si oblúbila dlhé výlety v prírode, nebojí sa zdolávať akékoľvek prekážky, často nezdolateľné aj pre pánečkov . Medzi jej najoblúbenejšie hračky patria loptičky na šnúrke (tých sme už minuly neúrekom ) a peškovia. Miluje ľudí bez ohladu na vek a pohlavie. Je to veľký mazel, čiže ako strážny pes je absolútne nevhodná
. Je to veľký jedák. Zje čokoľvek a žial aj kdekoľvek a od kohokoľvek
.
Viac o tom, ako trávime voľný čas sa dozviete v aktivitách.
Megi is a typical border collie- very temerament and always in a good mood. Her favorite toy is a ball on a string, she can play with it for a incredibly long time. She is very outgoing, she loves being around people of any age and sex. Even when we come home after 5 minutes, she greets us like she hasn't seen us for the whole day. Therefore she is not suitable as a a guard dog at all.
She also loves to eat. She would eat anything that doesn't eat her and unfortunatelly she does't care who does it belong to or where does it come from.

Our favorite activity is definitely agility.
In our free time we also like to play with balls, toys or anything that can be thrown, we learn new tricks and sometimes we train obedience. Megi has passed the herding instinct test but since we live in the capital city, we don't have the chance to work with the sheeps.
We spend a lot of time outdoors, we make trips by bike, by canoe, and we have also tried skijorging - Megi enjoys any type of activity
.